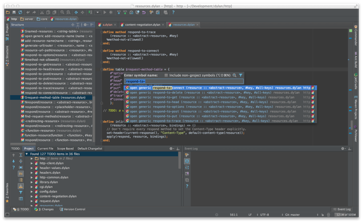 We've previously written about the state of the Open Dylan IDE. In short, it is currently only available on Windows and looks like an application from the 1990s (because it is). Simply getting it running on Mac OS X or Linux would be a lot of work (an attempt was made to port the underlying GUI framework), not counting modernization and adding new features.
In late September, we had a seemingly crazy idea: What if we built a new IDE on an existing IDE framework. We've previously worked with Eclipse and didn't want to do that again. IntelliJ, however, officially supports IDEs for Java, Python, Ruby, PHP, and Objective C. Unofficially, it has support for a host of other languages including Erlang, Lua, Scala, HaXe and many others.
So, we wondered, what would it take to get some basics running for Dylan? In the end, the answer was that within 10 hours of first looking at IntelliJ plug-in authoring, we had it recognizing file types, doing some basic parsing for LID files and some other minor things.
This led to the creation of DeftIDEA, a new Dylan Environment For Tools running inside of IntelliJ IDEA.
Why did ...
read more »
There are comments.